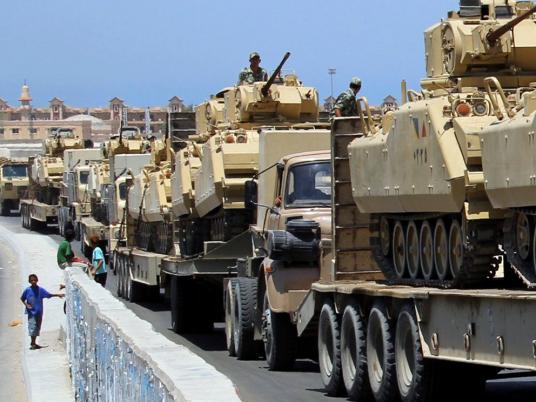 The military will remain loyal to the country, and protect its national security above all else, Defense Minister Abdel Fattah al-Sisi vowed on Thursday.
Sisi was responding to calls from reactionary political factions for the military to wrest power of the country away from President Mohamed Morsy's administration. He made the statement as military school students renewed their oath of allegiance in front of Sisi after finishing basic training.
The oath is a new tradition implemented to reaffirm the students' loyalty to the country and the military, and not to any political or religious movement or organization, a military source told Al-Masry Al-Youm. Any student demonstrating an affiliation with any particular political faction would be dismissed, the source added.
Attempts to notarize petitions calling for Sisi to take command of the Red Sea and Daqahliya Governorates resumed on Thursday, echoing similar attempts in Port Said on Wednesday. Notary offices refused to accept the petitions, however, leading to clashes between employees there and citizens.
Reactions to the petitions varied among political forces in those governorates, with some supporting the move and others objecting to it.
Also on Thursday, the Ultras Masrawy and several political movements resumed civil disobedience. Ali Spicy, of the Ultras Masrawy, said they would continue to fight to notarize petitions to authorize Sisi's rule. Branches of the Central Bank of Egypt, Ahly Bank, Alexandria Bank and the Banque du Caire were closed.
Edited translation from Al-Masry Al-Youm