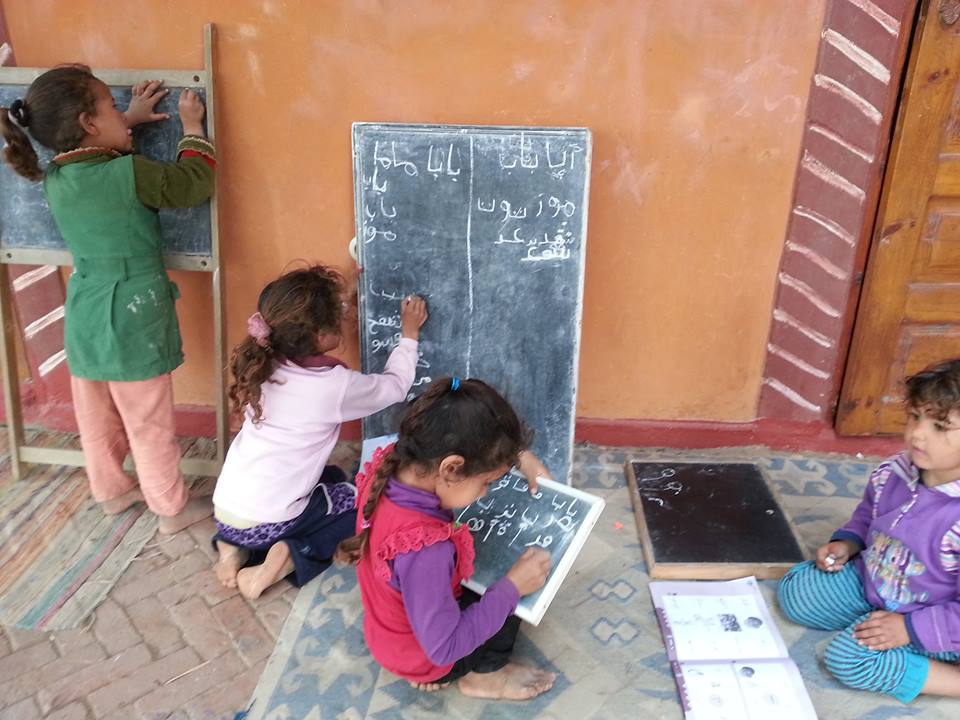 In a remote village by the Nile River called Bahrawa, a Slovenian women has launched a small alternative educational center called "Nile River School" for underprivileged children by creating a new inspiring educational space to fall alongside with their govermental education. The children will not learn only standard subjects, but also music, yoga, crochet, crafts, gardening and painting.
Diana Sandor, known as "Didi", is passionate about education. She has a plan to spread education in developing countries in order to guarantee that education is not only for the rich. She has built schools in Haiti, the Philippines, Malaysia and Thailand.
"When I was a student my teacher told me go out into the world and start schools everywhere; I really wanted to make an impact and make some change in the world. I started meditation and yoga sessions where I had my own personal soul-feeding and power to start these projects," Sandor told Egypt Independent.
Believing that Egypt is the center of culture in the Arab region, in 2011 the 64-year-old came to Egypt directly after the January 25 Uprising, believing that the country should witness a change and it could be through education. She traversed the republic searching for a suitable place to start her school project. She went to Cairo, Dahab and other cities but her heart was finally captured by the glory of Egypt's countryside.
By chance she was visiting an Egyptian friend in a village in Giza governorate where she discovered the breathtaking beauty of the Nile River surrounded by greenery in a fresh, clean enviroment; the place had no school and children have to walk more than 3 kilometers to reach the nearest school which was frustrating for parents and some children were not able to go.
"I met a girl who was a student at governmental school for few years, she was not able to spell any English words even the simplest ones; even worse when I asked her to write 'cat' in Arabic, she did not know how to write it or spell it, It was shocking to me; I couldn't believe that these children didn't know the basics of their language," Sandor said.
She recalled: "I found passion in the souls of the village residents who said that they really need a school … the place was so natural, the land is so fertile so I was encouraged to start the project there as education is for all, education is the tool to empower these little children who need the methods to develop."
In the same year Sandor launched the project, she got a plot of land from a family friend and received support from some individuals who believed in her idea and donated few chairs, tables, educational tools and toys for playing.
"We started to invite the friends of my friend, the neighbors and the family circle to let their kids join the school; however, I am a foreigner in a traditional Egyptian village … but surprisingly the parents were happy and welcomed the idea especially as their children will receive a good education with no tuition fees and just a few meters away from their houses," she said.
In the beginning, the educational center started with very simple tools, a table, small blackboard and a few wicker chairs in an open-air area, but one year ago she succeeded in receiving enough donations to build a small structure and obtain more necessary items.
The school includes more than 50 children from ages 3 to 14. It has two partitions, one for kindergarten and another one for older children at primary education levels who usually come in at midday after finishing their school day at governmental schools.
From 8am to 11am, the school provides scheduled classes in English and Arabic, math, music, arts and handicrafts. "The school has its own creative way of education, as its not only learning information by heart without really understanding it, as we sometimes teach them while we are playing, singing, gardening or doing crochet," Sandor said.
Along with a German volunteer teacher, the Nile River school depends mainly on volunteer teachers, mostly from the village, and sometimes older children who had attended the school when they were younger and volunteer during their holidays to help educate in the the kindergarten. "I usually pay these young volunteers or buy dresses or clothes to support them; they are usually 14-years-old so they are still kids," she said.
Communicating with a women whose speaks English and knows very few Arabic words may seem strange for young Egyptian children, but in fact they learned the English basics incredibly quickly through direct communication with Didi; they can understand her very well and sometimes they compete to translate what she says.
"Our school is like the life where you can learn a lot of things through experiences and communication, you can pick up many languages; I've been engaged in education for along time, so I know that children can pick up languages very easily, I talked to them only in English , so they hear the sounds and the words many times; for example, I can tell one of the students 'the table' he will automatically understand I mean clean the table however he might have not learned yet the word 'clean'," she said.
"I learned English and I learned everything at the school with Didi and now I help her in English education with the other little students at the school," Abla, a young student, said on the CBC channel.
Abla is a bright young student who joined the school couple of years ago, she learned very fast and now she is one of Didi's best supporting teachers.