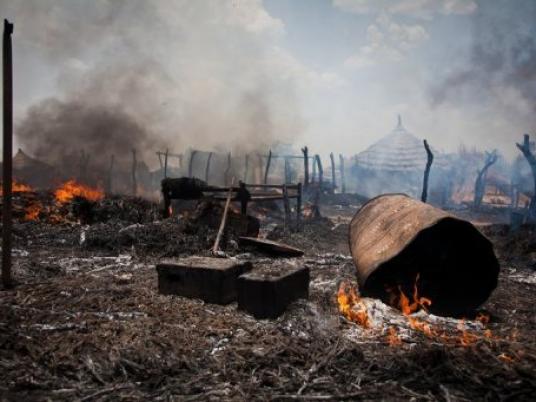 Talks to halt violence that has killed at least 1,000 people in South Sudan faced further delay on Wednesday after the government rejected rebel calls for an immediate release of detainees in the world's newest state.
Three weeks of fighting, often along ethnic faultlines, has pitted President Salva Kiir's SPLA government forces against the rebels loyal to former vice president Riek Machar and brought the oil exporting nation close to civil war.
Both sides met face-to-face for a first time on Tuesday in Addis Ababa but quickly took a break for African mediators to head to Juba and push for the release of 11 rebel detainees, who were arrested last year over an alleged coup plot.
But Kiir's government rejected the request, saying the detainees would only be free as long as the requisite legal processes have taken place.
"
We are willing to hear what the IGAD mediators will suggest and we will confer as a group," said Mabior Garang, spokesman of Machar's delegation to the talks in the Ethiopian capital.
IGAD is the East African grouping leading the mediation. Its mediators were set to arrive in Addis Ababa on Wednesday evening.
Ceasefire
The rebels had initially demanded the release of the detainees before the talks, but have since agreed to negotiate a ceasefire and the status of the detainees.
"
It is a decision that we will have to make as a group," Mabior said when asked whether Machar's delegation would withdraw from the talks unless the detainees were freed.
The fighting is the worst in South Sudan since it won independence from Sudan in 2011 in a peace deal that ended one of Africa's longest civil wars. It has also displaced over 200,000 people and cut oil exports.
Michael Makuei, acting head of the government delegation, said IGAD has presented ceasefire proposals to end the conflict. Both sides are set to discuss their positions on Wednesday.
The lack of progress in the peace talks has unnerved foreign powers, who worry that South Sudan could spiral into full-blown civil war.
China, the biggest investor in South Sudan's oil industry through state-owned Chinese oil giants National Petroleum Corp (CNPC) and Sinopec, called on Monday for an immediate ceasefire. Beijing is concerned by the unrest that had forced the government to cut oil production by about a fifth.
All of landlocked South Sudan's oil is piped through its northern neighbor, providing vital hard currency in transit fees for Khartoum. Oil major BP estimates that South Sudan holds sub-Saharan Africa's third-largest reserves.
South Sudan's oil production fell by 45,000 barrels per day to 200,000 bpd after oilfields in its northern Unity state were shut down due to fighting. Upper Nile state is still pumping about 200,000 bpd, the government says.
The latest supply disruption occurred barely six months after South Sudan resumed production following a year-long halt due to a dispute with neighboring Sudan.
Exports of heavy sweet Dar Blend will drop to 4.6 million barrels, or about 148,000 barrels per day (bpd), in January in a revised loading program, an industry source said, down about 21 percent from 187,000 bpd originally planned.
Two of the seven cargoes that had been scheduled for loading in January have been deferred to February, he said.