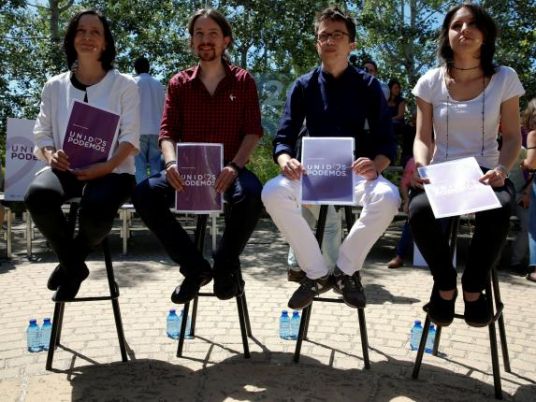 A coalition including Spain's anti-austerity party Podemos will take second place at the June 26 election, overtaking the more established Socialists, though the vote remains too fragmented for any clear government majority, polls showed on Sunday.
The election is being held after an inconclusive vote on December 20 failed to deliver a mandate to govern to any single party and political leaders could not reach an accord on a coalition large enough to take a majority in parliament.
While the ruling center-right People's Party (PP) would win the most votes, according to two separate polls published in El Mundo and El Pais, it remains without a large enough presence in the lower house to take a second term alone.
The party led by acting Prime Minister Mariano Rajoy would win 31 percent of the vote, or 130 seats in parliament, the Sigma Dos poll in El Mundo showed, far short of the 176 seats needed to win back its previous absolute majority.
Even if the PP were to rely on backing by natural allies, market-friendly newcomers Ciudadanos (Citizens), a resulting coalition would still fall short, holding just 167 seats, the survey showed.
Left-wing coalition
Meanwhile, support for a joint left-wing group formed by Podemos (We can) and Izquierda Unidos (IU or United Left) jumped ahead of the Socialists, with the poll in El Mundo giving the group 80 seats in Parliament over the Socialists' 77.
The Sigma Dos poll questioned 1,000 people from May 31 and June 2.
The Socialists took a hit in both surveys, losing support from the December ballot to the leftwing newcomers.
Socialist Party leader Pedro Sanchez has said he would not join a governing coalition with Rajoy, while Podemos' support for a referendum on Catalonia independence remains a deal-breaker with Spain's traditional left.
The Metroscopia poll in El Pais, which questioned 1,200 people from May 31 to June 1, showed the Socialists winning 20.2 percent of the vote, after the Unidos Podemos coalition, with 25.6 percent and the PP, with 28.5 percent.
Back to the ballot box
If a ruling majority cannot be formed after the June vote, Spaniards could potentially be forced to return to the ballot box for the third time in a year.
While the political impasse has had little effect on the country's economic recovery following years of prolonged recession, the Bank of Spain has warned stalled economic policy decisions could hit output if the situation continues.