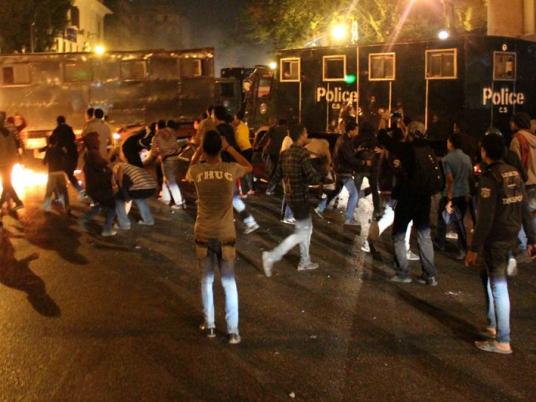 Developments in Gaza and on the streets of downtown Cairo have kept the local press busy this week.
In its coverage of ongoing clashes between protesters and security forces, independent newspaper Al-Shorouk reports that scuffles in Tahrir Square and along Qasr al-Aini Street intensified Wednesday night, leading to the arrest of many protesters. The paper also claims the Al Jazeera Mubasher Misr office downtown was set on fire yesterday because of its pro-Muslim Brotherhood stance.
The interior minister warned against attacks on the ministry and said many of the protesters, who began demonstrating Monday to mark last year's Mohamed Mahmoud Street clashes, are carrying weapons. Meanwhile, Mohamed al-Beltagy of the Freedom and Justice Party describes the protests as the work of thugs and says political and revolutionary forces are not responsible for the violence, reports al-Shorouk.
Party paper Freedom and Justice reports that 43 people were injured and 83 arrested during protests Wednesday. According to the Muslim Brotherhood mouthpiece, no deaths have been reported. Of those injured, 32 are being treated in Mounira Hospital, five in Qasr al-Aini Hospital and three in the police hospital in Agouza. The newspaper says authorities are investigating the 83 detainees accused of damaging public property and assaulting police officers.
State-run Al-Akhbar's main headline reads, "A bloody night in Qasr al-Aini." The newspaper says 118 protesters have been arrested this week. Amid the recent violence, street artists have sprayed graffiti murals of Mohamed Gaber, the member of April 6 Youth Movement who is on life support after being shot during demonstrations.
"A ceasefire in Gaza with Egyptian surety," writes Al-Shorouk of the truce Egypt helped broker between Israel and Hamas that took effect 9 pm Wednesday. According to Al-Shorouk, the website of Israeli newspaper Yedioth Ahronoth reported a rocket was launched from Sinai last night toward a small Israeli town on the border, but no casualties were reported.
Al-Akhbar newspaper writes that negotiations between Egyptian Foreign Affairs Minister Mohamed Kamel Amr and his American counterpart Hilary Clinton lasted for more than four hours. Amr emphasized Egypt's commitment to the Palestinian cause and said he appreciates the Turkish and Arab League efforts to resolve the conflict, the paper reports.
The clashes between Cairo protesters and security forces have prompted President Mohamed Morsy to cancel a visit to Pakistan, sending his vice president in his place to the summit of eight Islamic nations. Al-Shorouk quotes a source as saying the president also wants to closely monitor the situation in Gaza, especially the first 24 hours of the truce.
Freedom and Justice, however, runs a headline on its front page saying, "The president leaves for Pakistan." Although several news outlets have reported the trip was cancelled, according to the paper, Morsy left yesterday accompanied by a large delegation.
Egypt's papers:
Al-Ahram: Daily, state-run, largest distribution in Egypt
Al-Akhbar: Daily, state-run, second to Al-Ahram in institutional size
Al-Gomhurriya: Daily, state-run
Rose al-Youssef: Daily, state-run
Al-Dostour: Daily, privately owned
Al-Shorouk: Daily, privately owned
Al-Watan: Daily, privately owned
Al-Wafd: Daily, published by the liberal Wafd Party
Youm7: Daily, privately owned
Al-Tahrir: Daily, privately owned
Al-Sabah: Daily, privately owned
Freedom and Justice: Daily, published by the Muslim Brotherhood's Freedom and Justice Party
Sawt al-Umma: Weekly, privately owned
Al-Arabi: Weekly, published by the Nasserist Party
Al-Nour: Official paper of the Salafi Nour Party