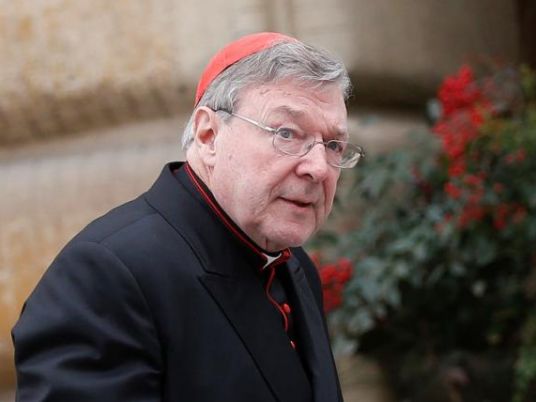 Australian Cardinal George Pell said on Sunday the Catholic Church made "enormous mistakes" and dismissed cases of sexual abuse of children in "scandalous circumstances", as he became the highest-ranking Vatican official to testify on Church abuse.
Giving evidence in front of abuse victims in a Rome hotel room, Pell told Australia's Royal Commission into Institutional Response to Child Sexual Abuse that children were often not believed and abusive priests shuffled from parish to parish.
"The Church has made enormous mistakes and is working to remedy those, but the Church in many places, certainly in Australia, has mucked things up, has let people down," Pell said via video link to the commission in Sydney.
"I'm not here to defend the indefensible."
The Australian inquiry into sexual abuse cases which occurred decades ago has taken on wider implications about accountability of Church leaders because of Pell's high position in the Vatican, where he now serves as finance minister.
Pell, 74, has become the focal point for victims' frustration over what they say has been an inadequate response from the Catholic Church to the abuse claims. Pell himself is not accused of sexual abuse and has twice apologized for the Church's slow response.
When pressed on specific situations involving particular priests some 40 years ago, Pell repeatedly said he couldn't recollect the incidents being put to him, at one point citing "a senior moment", angering witnesses in both Rome and Sydney.
"He is an intelligent man, he is in such a high position, we all have our seniors moments but not on something like this," Trish Charter, who says she was abused between the ages of four and eight at an orphanage run by the Sisters of Mercy, said in Sydney.
Around 15 abuse victims and supporters traveled to Rome on the back of a crowd-funding campaign to see Pell give evidence after he said he was unable to travel to his native Australia because of heart problems.
In Sydney, victims' supporters gathered outside the Commission's hearing rooms, holding hands in prayer and carrying signs saying "Pope Sack Pell Now" and "Pell go to hell".
Too many cases dismissed
Last year, Pell denied accusations made at Commission hearings that he had tried to bribe a victim to remain quiet, that he ignored another complaint and that he was complicit in the transfer of a pedophile priest. The alleged events took place in the 1970s and 1980s when Pell was a priest in Australia.
Australia's bishops have rallied behind Pell, calling him "a man of integrity who is committed to the truth".
Pell said on Sunday that too many allegations of abuse "were dismissed and sometimes they were dismissed in absolutely scandalous circumstances".
"They were very, very, very plausible allegations made by responsible people that were not followed up sufficiently," he said, adding he believed the faults were personal rather than structural failings.
"Unfortunately, original sin is alive and well," Pell said. "There's tendency to evil in the Catholic Church too and sometimes it's better, sometimes it's worse but for good or for ill the Church follows the patterns of the societies in which it lives."
On Sunday, Pell's office released a photo of the Cardinal tying a yellow ribbon around a fence in the Vatican Gardens, joining a campaign started by the Australian Loud Fence movement. The group first hung colored ribbons on a fence outside a Catholic school in the rural town of Ballarat, where abuse was rife, with the bright colors designed to give a voice to child victims who were silenced.
Church sexual abuse broke into the open in 2002, when it was discovered that bishops in the Boston area moved abusers from parish to parish instead of defrocking them. Similar scandals have since been discovered around the world and tens of millions of dollars have been paid in compensation.
Ironically, the Rome hearing started just hours before the Oscar ceremony in Hollywood, where "Spotlight", a film about the systematic cover-up of sexual abuse in the Church in Boston, has been nominated for six Academy Awards.