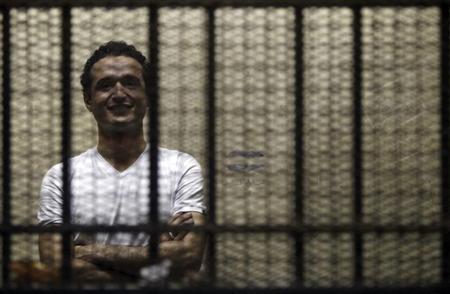 The Cairo Criminal Court adjourned Tuesday the trial of 269 suspects including activist Ahmed Douma to 9 April over his alleged involvement in violence, riots and lighting fires in front of parliament and the Shura Council in 2011.
Clashes erupted between military troops and sympathetic civilians on one side and opponents of the then-ruling Supreme Council of Armed Forces (SCAF) on the other. SCAF had been ruling in the interim period that followed ouster of former President Hosni Mubarak.
The court also decided to keep Douma imprisoned and to arrest the prosecution witnesses.
Douma was originally arrested in December 2013 while protesting against the new protest law, which requires prior approval from the Interior Ministry before holding a demonstration. On 22 December, Douma was sentenced to three years of hard labor with a fine of LE50,000, a move which the international community criticized heavily.
In March, Mahmoud Belal, Douma's lawyer, said the court had refused to refer him, along with leaders of the April 6 Movement Ahmed Maher and Mohamed Adel, to forensic doctors despite witnessing marks of assaults on their bodies.
The three activists were beaten after they protested being put in hand cuffs at court, according to Belal. Marks were clear on the right arm of each of Douma and Maher. The defense team withdrew in protest against the incident and for holding the court at the police officers' institute, a place belonging to the opponent, he added.
Edited translation from Al-Masry Al-Youm