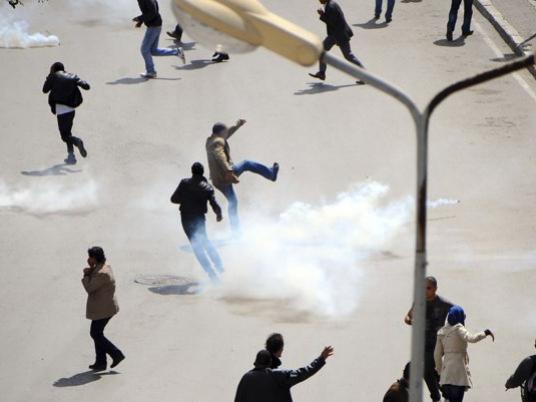 Tunisia's Prime Minister Habib Essid held an emergency cabinet meeting Saturday, after authorities declared a nighttime curfew nationwide following the worst outbreak of social unrest since the 2011 revolution.
Five years after the ouster of longtime dictator Zine El Abidine Ben Ali, street demonstrations against unemployment and poverty have again shaken the North African nation.
Anger erupted over the death on January 16 of Ridha Yahyaoui, a 28-year-old unemployed man who was electrocuted when he climbed a power pole while protesting in the central town of Kasserine.
The unrest spread around the country, including to Tunis where shops were burnt and looted in one suburb, prompting the interior ministry on Friday to impose a 8:00 pm to 5:00 am curfew.
Essid met his defense and interior ministers before the cabinet session, as AFP journalists reported relative calm in towns rocked by clashes between protesters and police in recent days.
"Security-wise, it has started to stabilize," interior ministry spokesman Walid Louguini told AFP, echoing Essid's comments on Friday that the situation had been brought "under control".
In a televised address to the nation on Friday, President Beji Caid Essebsi expressed understanding for the frustrations vented in impoverished regions of central Tunisia.
But he warned against "ill-intentioned hands" exploiting the legitimate grievances of demonstrators.
Calm returned to Kasserine on Saturday morning, an AFP journalist said, after a day of clashes.
In the nearby town of Sidi Bouzid — the cradle of the 2011 uprising — teenagers set fire to tires but the situation was relatively calm, an AFP journalist said.
More than 300 arrests
Authorities arrested 261 people over the unrest and 84 for violating the curfew on Friday, the interior ministry said.
Saturday's cabinet session comes after Essid earlier this month replaced his foreign and interior ministers in the first cabinet reshuffle since Essebsi took office in late 2014.
Independent analyst Selim Kharrat has called the past week's protests and clashes "the most serious social crisis since 2011".
The unrest has echoes of the public anger after the death of a young fruit seller who set himself on fire in Sidi Bouzid in December 2010 in protest at unemployment and police harassment.
Mohammed Bouazizi's desperate act sparked the uprising that toppled Ben Ali and inspired similar revolts across Arab countries.
On Friday morning, a man tried to set himself alight but was prevented by bystanders, as hundreds of demonstrators gathered outside the governor's office, an AFP correspondent said.
France on Friday pledged one billion euros (US$1.1 billion) in development aid to Tunisia over the next five years, after Essid held talks with French President Francois Hollande.
Yahyaoui's father, Othman Yahyaoui, on Friday said his son was "a victim of corruption, marginalization and unkept promises".
Mehrez, a brother, said impoverished youths were being driven towards "drug trafficking and terrorism", in reference to the thousands of young Tunisians who have signed up with jihadist organizations such as the Islamic State (IS) group.
While Tunisia is considered a rare success story of the Arab Spring uprisings, the authorities have failed to resolve the problems of social exclusion and regional inequalities.
Groups including the Tunisian League for Human Rights and Oxfam on Friday urged the government "to adopt an economic model aimed at reducing regional disparities and social injustices".
Tunisia also faces jihadist violence that has devastated its vital tourism industry.
Attacks claimed by IS last year at the national museum and a beach resort killed a total of 60 people, all but one of them foreign tourists.
An IS suicide bombing also killed 12 presidential guards in the capital in November.