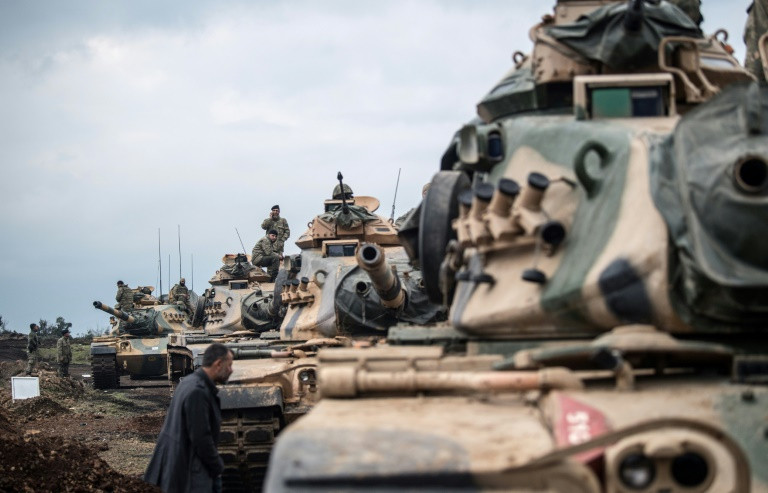 Clashes raged between Turkish-backed forces and Kurdish militia in Syria's Afrin region on Wednesday, as wounded civilians fled intense Turkish air strikes.
Turkey and allied Syrian rebels have pressed on with Operation Olive Branch in the Kurdish-controlled Afrin enclave despite mounting international concern and reports of rising civilian casualties.
On Wednesday, French President Emmanuel Macron warned he would have a "real problem" with Turkey's intervention if it turned into a full-blown "invasion."
An AFP correspondent in Afrin heard warplanes flying overhead, and Kurdish officials said rocket fire on the town wounded 12 civilians.
The Syrian Observatory for Human Rights said heavy bombardment and Turkish air strikes were accompanying ground fighting around Jandairis and Rajo, two areas to the west of Afrin near the Turkish border.
The Britain-based war monitor reported that Turkish-backed forces had seized control of the border village of Shinkal to the northwest.
"Turkish forces dispatched new military reinforcements overnight, including fighters and equipment, to Shinkal in an attempt to consolidate their control over several points and support attacking forces," said Observatory head Rami Abdel Rahman.
Turkey and its Syria rebel allies launched Operation Olive Branch against the Kurdish People's Protection Units (YPG), on January 20.
The group has been a key ally of Washington in its fight against the Islamic State jihadists but Ankara regards it as an offshoot of the Kurdistan Workers Party (PKK), which has waged a deadly insurgency in southeastern Turkey since 1984.
Ankara has denied hitting civilians in its military operations, but hospitals in Afrin say they are receiving civilian casualties on a daily basis.
– 'The whole world knows' –
At region's main hospital late on Tuesday, a heartbroken family was seen carrying out the body of their father, killed in shelling several days earlier.
A sobbing woman touched her head to the casket.
Nearby, an elderly man was yelling to anyone who would listen.
He had survived heavy Turkish bombardment of his neighbourhood, but 12 of his family members — including two infant grandchildren — had not.
"The whole world knows what's happening here. Everyone know that civilians are dying," he screamed.
"A four month old and a nine month old — as if we're the Daesh of Afrin," he said, using the Arabic acronym for the Islamic State group.
The Observatory says the Turkish operation has left 67 civilians dead so far, 20 of them children.
Turkey strongly rejects the figures, saying it is doing everything it can to avoid civilian casualties.
Defence Minister Nurettin Canikli said on Tuesday that the Turkish army and its rebel allies "have not harmed any civilian" during the operation.
– Turkish teen killed –
On Wednesday, the Turkish army said it destroyed 22 YPG targets overnight.
Since launching the assault, Turkey and rebel allies have captured 11 villages and the strategic Barsaya hill, according to the Observatory.
Barsaya overlooks both the rebel-held Syrian town of Azaz, and Kilis across the border in Turkey.
Advancing fighters were facing "fierce resistance from YPG fighters holed up in the mountains, in spite of Turkey's massive firepower," said Abdel Rahman.
The Observatory said that 85 YPG fighters and 81 pro-Ankara rebels had been killed in the fighting so far.
Turkey says seven of its soldiers have been killed.
On Wednesday, rockets launched from Syria killed a 17-year-old girl and wounded another resident of a Turkish border town, officials said.
The US and France have repeatedly expressed concern over the cross-border offensive, which Turkish President Recep Tayyip Erdogan last week threatened to expand.
Erdogan has vowed to "clean up" the YPG-held city of Manbij east of Afrin, where the US has troops as part of its operations against IS.
In response, French Foreign Minister Jean-Yves Le Drian said on Tuesday that if the operation turned into an "occupation" of parts of Syria, it would be "totally reprehensible".