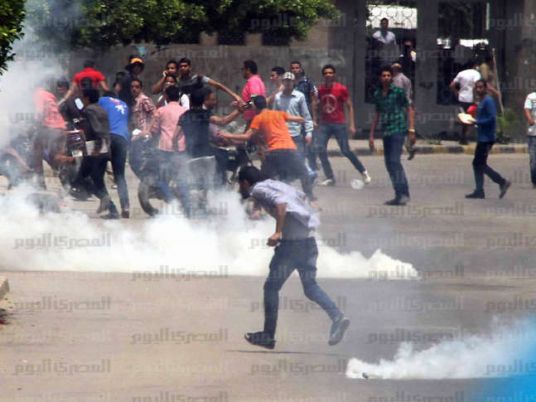 An Egyptian student was killed on Friday during clashes between Muslim Brotherhood protesters and residents in the coastal city of Alexandria, as demonstrations gathered pace two days before the anniversary of the 2011 uprising.
The Freedom and Justice Party, the political wing of the outlawed Brotherhood, identified the dead woman on its Facebook page as 17-year-old Sondos Rida Abu Bakr and accused security forces of shooting her during a demonstration.
A security official in Alexandria said several people were wounded on Friday in clashes between protesters and local residents but denied that security forces had opened fire to disperse demonstrators.
Demonstrations took place in several parts of Egypt on Friday, with Brotherhood supporters calling for protests to mark four years since the Jan. 25, 2011 revolt that toppled veteran autocrat Hosni Mubarak and led to democratic elections.
The Brotherhood's Mohamed Mursi was elected president but was removed by the army in 2013 after mass protests against his turbulent one-year rule.
Abdel Fattah al-Sisi, the ex-army chief behind Mursi's removal, went on to win a presidential election in May and launched a crackdown that has seen Egypt's oldest Islamist movement driven underground and thousands of its members arrested.
Several people were also wounded in the Faysal suburb of Cairo on Friday when security forces broke up Brotherhood demonstrators who clashed with pro-government locals, the state-owned al-Ahram newspaper said.
At least 20 people were arrested in Alexandria on Friday and 68 the previous day, security sources said, with several protests taking place in the Mediterranean city.
Human rights activists say a law restricting protests and other security legislation enacted by Sisi in the absence of a parliament have rolled back freedoms won in the 2011 uprising.
Liberal activists, including many who supported Mursi's removal, have since found themselves on the wrong side of Egypt's new rulers, with many facing trial for taking part in small protests.
Sisi said this week Egyptians had the right to protest but cautioned that demonstrating could harm the economy.
Ayman Abdel Monem, a Health Ministry official in Alexandria, said the woman killed on Friday was one of two taken to hospital with gunshot wounds.
With so many of the men behind bars, the Brotherhood's women supporters have taken an increasingly active role in street protests over the past 18 months.