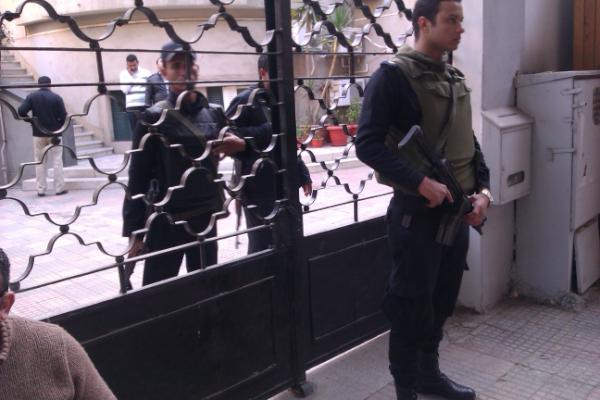 The US government on Friday expressed concern about increasing crackdowns on civil liberties around the world, from Russia to Egypt and China, saying these and other countries were shrinking the space in which independent political and other activists can operate.
In its annual survey of human rights around the world, the State Department singled out Myanmar for praise for the second year in a row, in recognition of political and economic reforms put in place since that country's military stepped aside and a quasi-civilian government was installed in 2011.
"Because of steps toward democratic reform and stronger human rights protections, a country that had been isolated for years is now making progress," Secretary of State John Kerry said of Myanmar as the human rights report was released.
The report's long section on Russia noted that in the last year Moscow had approved new restrictions on nongovernmental organizations such as human rights groups – particularly those that get funding from abroad – as well as large increases in fines for unauthorized protests.
Russian authorities selectively detained and prosecuted members of the political opposition, the report said, including one of President Vladimir Putin's biggest critics, Alexei Navalny, an anti-corruption whistleblower.
Three criminal cases were opened against Navalny in 2012. This week, he went on trial in one of the cases in which he faces theft charges that could result in a 10-year prison sentence. Russian investigators then increased the pressure by opening yet another criminal probe against him on Thursday.
The State Department report said procedural irregularities and reports of vote fraud marred the election of Putin to his third term last year. It said Russia mostly did not punish officials who committed human rights abuses, "resulting in a climate of impunity."
It said the rule of law was "particularly deficient" in the north Caucasus – which includes the Russian-ruled region of Chechnya – "where conflict among government forces, insurgents, Islamist militants, and criminal forces led to numerous human rights abuses, including killings, torture, physical abuse, and politically motivated abductions."
Uzra Zeya, the acting assistant secretary of state for human rights, declined to discuss whether the US manhunt on Friday for an ethnic Chechen suspected in the Boston Marathon bombings might change the way the State Department viewed the human rights situation in that region.
The annual reports, which have been produced for nearly four decades, can upset smaller countries cited, while more powerful ones sometimes ignore the criticism or retort that Washington ignores its own problems at home.
Zeya was asked about the continued detention without trial of dozens of prisoners captured in U.S. counterterrorism operations abroad. She said President Barack Obama wanted to close the prison holding the suspects at Guantanamo Bay, Cuba, but that Congress had not gone along with that.
Tense US ties with Putin
Disputes over human rights have been one element in increasingly tense US ties with Putin's government.
Last week the United States slapped visa bans on 18 people for alleged violations of human rights in Russia, most of them related to the 2009 death in prison of a whistleblower, Sergei Magnitsky. Russia retaliated by blacklisting 18 Americans, including two that had been in charge of the Guantanamo prison.
David Kramer of Freedom House, a US-based nongovernmental organization, said that 2012 was a "downright ugly year" for human rights in Russia.
"When you add it all up, the report reflects the worst human rights situation in Russia since the collapse of the USSR," said Kramer, a former assistant secretary of state for human rights.
The State Department report said that in China, "repression and coercion, particularly against organizations and individuals involved in rights advocacy and public interest issues, were routine."
"There was severe official repression of the freedoms of speech, religion, association, and harsh restrictions on the movement of ethnic Uighurs in the Xinjiang Uighur Autonomous Region (XUAR) and of ethnic Tibetans in the Tibet Autonomous Region (TAR) and other Tibetan areas," it said.
The report noted that the Egyptian government took action against nongovernmental groups at the end of 2011, with police raids against a number of groups including the Washington-based National Democratic Institute and International Republican Institute.
The Egyptian government charged both citizens and foreign personnel with "running unlicensed organizations" and "receiving foreign funds without permission." Americans who worked for the groups were allowed to leave the country after a couple of months, but the State Department said 43 others remained on trial throughout 2012.