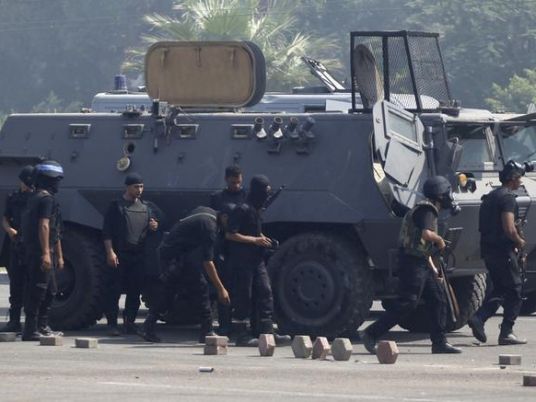 The verdict in the retrial of four police officers accused of manslaughter in the Abu Zaabal police van case has been scheduled for March 18, a court decided on Tuesday.
The case was brought to court after the deaths of 37 detainees inside a police van in August 2013. The incident took place outside the Abu Zaabal prison.
In June, 2014 a misdemeanour court of appeals cancelled sentences handed to the police officers and returned the case to prosecution for more investigation. Overturning the verdict paved the way for the retrial.
The Court of Cassation accepted appeals presented by the prosecution and ordered a retrial last month.
The 37 deceased detainees were arrested following the forcible dispersal of the pro-Mohamed Mursi Rabaa al-Adawiya sit-in on August 14, 2013. Their deaths are alleged to have been caused by policemen firing a teargas canister inside the van.
Investigations revealed that the ventilation system in the police van was broken and that there were 45 prisoners inside the car, while its capacity could accommodate no more than 24 persons.
The prosecutor-general leveled the four police officers with manslaughter charges, citing the inability to prove their criminal intent in murder, a prerequisite in pressing first-degree-murder charges.
In the initial verdict, the vice warden of a police station was sentenced to 10 years in prison, while the three other police officers were served a suspended sentence of one year in prison each.